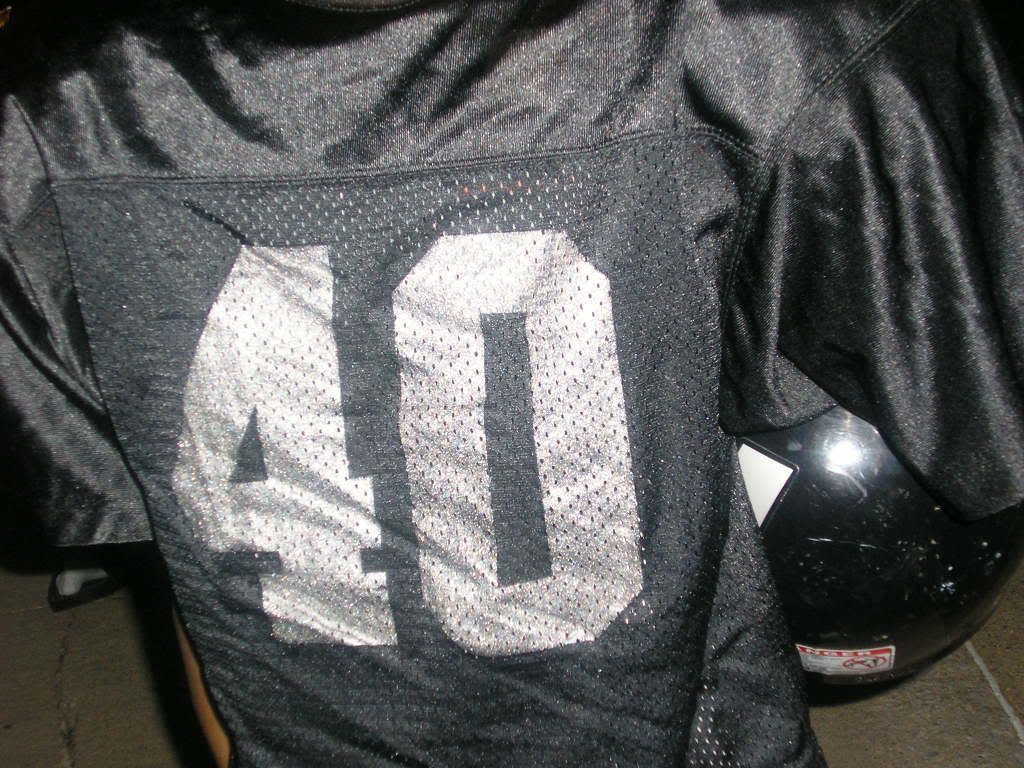 photobucket.com
Yesterday it finally happened.
I turned forty years old. I was born in 1970 and while growing up I always thought about the year 2000 and the thirty year old mark. Thirty years old, though distant, still seemed possible as a child and teenager. When it came I didn't even think twice about it.
Forty? Too surreal to even consider back then. 4:17 p.m. on Sunday marked the official commencement of my middle age and I'll have to admit it bothered me some.
I don't feel much different--not a day over thirty nine anyway. Getting out of bed is hard, however. My left knee cries foul when I dare bend it. My back feels pretty decent until I try to bend over in the shower. Stabbing pains assault my hip when making quick moves to the left. I'm kind of stuck in this perpetual state of painful mobility with joints that don't play well together.
I know running is bad for them, but I just can't stop. Guess cantankerousness comes with age too.
I'm facing some follicle challenges as well. Much of the hair on my head has begun a mass migration to points south, including my nose, eyebrows, and a pesky patch of undergrowth infiltrating the right side of my back. What's left on my crown recently decided to change its once dark color for lighter hues of brown and gray. Still more pepper, but the salt is gaining momentum.
My sweet daughter, Mary, assuaged my age anxiety yesterday...or tried to anyway.
"Oh, dad, I'll always love you," she said.
I beamed while almost missing the final refrain.
"You don't look that old."
I had to drink half a bottle of Nyquil to calm my nerves after that one. Ok, not really...I didn't drink quite half. But, I did think a lot yesterday about getting older.
By most scientific standards I've eclipsed the half-way mark of my life expectancy. I thought about what I have and have not accomplished. I thought about the metamorphosis of my dreams.
Ambition consumed me while growing up. Playing major league baseball didn't quite work out, so I opted for high-powered lawyer instead. That lasted for awhile until I discovered you had to go to another school after college in order to practice the discipline.
No thanks.
I decided, instead, to jump right into the business world. That's where I would make my indelible mark. I married my high school sweetheart in the fall of 1992 and we began our life together in Nashville, TN. One year later she decided to come back home to Virginia with or without me.
Thankfully, I had just enough good sense then to get on board.
God saw fit to bless us with three children in the past twelve years. We've lived a charmed life...me, especially. We've faced a little fire and He's used it to refine some rough edges on me. Still not that smooth, but better than where I started.
Curious thing too. My dreams have changed some. The older I've gotten the more I long for times more simple. For quiet times-places far away from worldly noise. Money and conquest have lost most of their once brilliant luster.
Things are becoming less important. Relationships more so.
The older I'm getting the more I'm coming to understand God wants good gifts for me just as I want good gifts for my own children. I'm better understanding the evolution of what I thought were good gifts then and what I know them to be now. Mostly, I have a new clarity on life and my vapor that will quickly fade to some other dimension.
photobucket.com
I still have a lot of questions though...not too many answers. I still have some dreams left-projects unfinished.
Probably a few more fires too before I'm done...
or before He's finally done with me...
images courtesy of photobucket.com