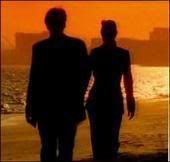 photobucket.com
I woke up about 5:30 this morning and rolled over on my side, carefully placing my left arm around my wife's waist. She slept still, but seemed to almost subconsciously notice the pressure around her...to interpret my presence.
Her husband. The man that should love her most.
Around 6:00 I went downstairs to the kitchen for some fruit and drink. I checked my email and then came back upstairs to dress for a quick run. The old wood floors cracked, popped and creaked in a way so acutely perceptible in the morning silence; so offensive to fresh ears. I sat on the edge of the bed tying my shoelaces and wondering if the noise had stirred her awake.
It had.
"Are you going running?"
"Thought I would."
Almost immediately she began talking about our upcoming plans for a weekend trip to Pennsylvania. She talked of the children-their similarities...their oddities too. We laughed for a couple of minutes, comfortable in the tranquility of a world mostly asleep.
I stood up.
"Oh, don't go. Stay with me for awhile," she asked.
"I have to, honey. I'm forty now. Have to keep working, keep this body all firmed up for you."
She chuckled a little and soon my legs pounded in the humid air of the country roads around our house. Her words kept popping up in my head, though:
"Stay with me...don't go."
It occurred to me that I spend so much of my life running...running from so much...from relationships of the present, from opportunities of the future. I mistakenly think chiseling out hard sinews from my flesh is the most direct way to her heart.
The way to make her love me more.
Perhaps in some ways a noble idea, but likely not the way most excellent. Most of the time, it's ears content to listen without trying to solve every problem. It's looking into her eyes with affection, reminiscent of the gaze she remembers from a different time; a time before we were married. It's showing her she matters most. It's confirming she's valuable...her ideas most noteworthy. It's taking the time to notice her.
It's more in the humility of a gentle spirit than the strength of an enduring body.
Time is so short. Chances missed today, forever gone.
And, inside an old farmhouse just down the road, my wife rolled over wanting something I couldn't give.
While I kept running...running away.
Maybe one day, before it's too late, I'll get the anatomy right.
Not my bulging arms or toned legs.
But instead, the heart of the matter.



HER
heart...
images courtesy of photobucket.com