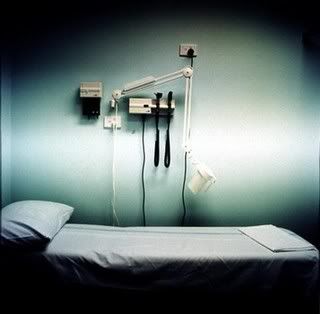 courtesy of photobucket.com
He desperately bit his tongue as the pain continued its tormenting grip.
Blood fell from his mouth. He lifted the bed sheet and wiped it from his face still writhing in pain from the relentless assault of demons present and past. He pushed the red button hoping someone would come quickly. The nurse entered, took her syringe and pushed it in.
He wouldn't make it through the night.
The end approached quickly so they called her. She was the ex-wife and mother of the three children he abandoned years earlier.
He begged her to bring his kids.
The oldest, a boy, had lived for just eleven years when his father left their home-old enough to hate his daddy...young enough to love him too. His two young sisters knew much less of this man and adjusted well while growing up.
Jimmy? Not so much.
He saw his father just briefly when he showed up for a couple of his little league football games making quite a scene amidst the bleachers. The bottle controlled his life. He clearly remembered his dad watching from the stands as emergency workers loaded him into an ambulance after breaking his leg in a junior league game. Jimmy cried out in the hospital begging for his father to come.
He never did.
That game was the last time he ever remembered seeing his dad.
Jimmy made some bad friends in high school. He finally dropped out, going from odd job to odd job trying to support his marijuana habit. He had a few brushes with the law, but nothing too serious. Somehow, by the grace of God, he met a nice girl and found a full time job.
He was even going to church occasionally.
Now, this twenty six year old man along with his mother and two sisters, stood at the bedside of his dying father. His dad knew what was coming and so wanted to see them one last time. They came to the man who ignored them for so many years.
The cancer ravaged his nearly unrecognizable body.
Through the painful spasms this withered man tried to make things right...to quickly seek forgiveness for years of hurt.
The two daughters held his hands and each kissed his cheek gently.
Jimmy recoiled, standing stoically in the doorway. He said nothing. Instead, he began to quietly sob. He turned and left the room as his mother followed. She finally caught him outside the hospital in the parking lot by his car.
He collapsed into her, saying nothing as the vicious onslaught of tears fell.
He cried for this man he barely knew. He cried for what should have been.
Mostly, he cried for the life he had never known,
and what for now...
would never be...

courtesy of photobucket.com
Note:
This is a true story as told to me by one of our customers from work. Always makes me think about the brokenness of children all around us. We just never know the pain and hurt that others may be carrying with them. If nothing else, having foster children has taught me that. Thankfully, there is One who offers healing. There is a Heavenly Father who cares. He offers grace, forgiveness and hope. He is... God!