courtesy of photobucket.com
Lisa stayed home with Thomas, who suffered from a stomach ailment this morning. I took the others to church. Mary and I headed to the sanctuary, while Luke walked the foster daughters to their class. A few minutes later, Luke stood beside our aisle with the youngest of them, Jennifer.
"She wanted to come sit with you," he said.
This seemed especially odd to me since she loved her class and had never missed it to sit through a sermon-a fiercely independent child, who at least to this point, maintained a much greater affinity with the wife I left behind.
Had I raised her from birth, I probably would have insisted she go back to class.
Mary offered to hold her, but Jennifer resisted. Again, uncharacteristic behavior. Instead, she crawled up into my lap. I crossed my right leg over my left and let her sit in the space between them. She leaned her head back into my chest and dangled her flip-flopped feet over my shin. I wrapped my arms around her waist for a while, but straight away my legs cramped. The next thirty minutes we spent adjusting, re-adusting and re-adjusting again, all the while my thoughts drifting back to a letter we received just the day before.
The "final visit" letter.
We had waited for this moment with anticipation and dread too. This letter told of the meeting scheduled Friday by the social services office between our two foster daughters, their biological siblings in other homes and biological parents- the meeting where hearts would break deeper and those first relationships from the past be surely severed. That day had loomed heavy on us for several months like a tapestry of billowing, dark clouds obscuring the clearer, blue sky we hoped lingered behind them. We knew the voyage across would be full of turbulence and the final destination in doubt.
And now, the reality of that horizon lay closely in the distance.
As we stood for the invitation song, I grasped Jennifer from my lap and held her like the baby she used to be before our paths ever crossed-made easier in that she is smallish for her age. She held me tight, her head resting peacefully on my right shoulder. Again, I thought of the "final visit" awaiting her on Friday. I wondered about a child-like intuition, and if somehow, she may have sensed inklings of that impending crisis.
The preacher had spoken so eloquently about the role and responsibility of fathers-the love of a great Heavenly Father who crafted the world we know from the vast nothingness of space.
"Holy, Holy, Holy, is the Lord God Almighty. The One Who is and is to come, " the church now bellowed.
I wondered how she could understand the word father at all and if she really knew what home meant. I wondered how she would define them with her four year old words. I pressed my mouth close to her ear and sang the words loudly, trying to convince the little girl of His providence.
And myself too.
At once, she turned to my oldest daughter and whispered something barely audible to my ears. Mary thought it sufficiently interesting to lean over towards me and relay the remark.
She said, "I love Jesus."
I swallowed hard and tried to suppress the tears collecting in the bottom of my eyelids. I tried to breathe deeply and avoid any noticeable facial contortions that might reveal my emotional upheaval. After all, I'm a guy who is supposed to lead my family by a stalwart example and iron-like strength.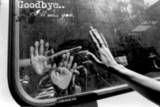 courtesy of photobucket.com
The tears finally began their descent,
and one thought consumed me:
I hope He is listening on Friday,
I sure hope He hears those goodbyes.
And, above all else, I hope
that she will always believe,
He really does
care...